Lego League
First Lego League
First Lego League (FLL) is a STEM enrichment opportunity available to students from Years 5 to 7. FLL is a world renowned robotics competition where students form teams to complete a robot challenge using Lego EV3 robots, research a problem related to the annual theme and participate at a Regional Tournament with the opportunity to qualify to progress onto State and National Championships.
Prospect North entered two teams for the first time in 2017. The teams, H2Flo and Splice Cubes, competed at the Novar Gardens Regional where both did very well, with H2Flo winning a Judges Award trophy and finishing second on the day. This earnt the team the chance to compete at the National Championship in Sydney, which they did with the help of a Federal Government grant. There they also earned a third place trophy in the Inspiration Category which was an outstanding effort.
The core of this successful team have renamed themselves Synergetix for 2018 with the aim of establishing our school as a regular FLL participant. The team members have been mentoring other students at our school - we are hopefully entering an additional two new teams for the 2018 season. You can find out more at their official Synergetix website.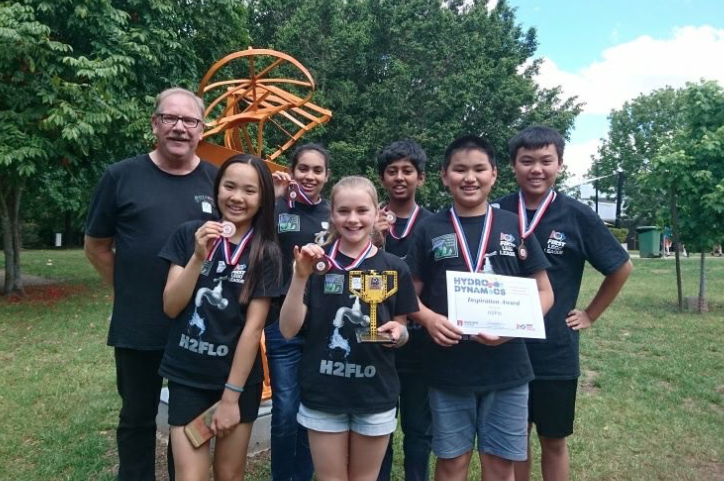 Junior Lego League
First Lego League Junior (FLL Jr) is a STEM program aimed at students from Year 1 to 4 - it is the younger version of FLL and shares a similar annual theme. Students work in teams to create a working Lego model based on solving a problem related to the theme, and also produce a ShowMe poster to outline their learning. The 2017 theme was focussed on water, while 2018 will focus on outer space. Prospect North is the first primary school to engage with FLL Jr in South Australia and we held our first FLL Jr Expo in December 2017 with our teams showing their designs and learning to fellow students and family.
Interested students apply to be part of FLL Jr and give some of their break times in order to participate. The season runs from early August until late November, and in 2018, the program will be expanding to include teams from other schools with Prospect North as the official Expo host.